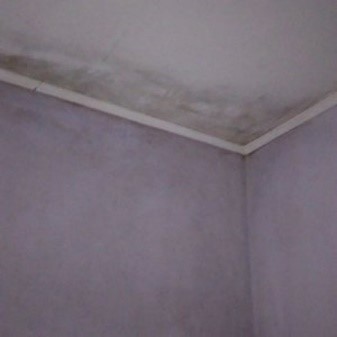 Bedrooms had mold and mildew resulting from the cold conditions.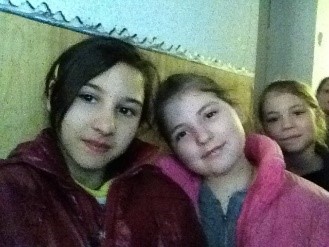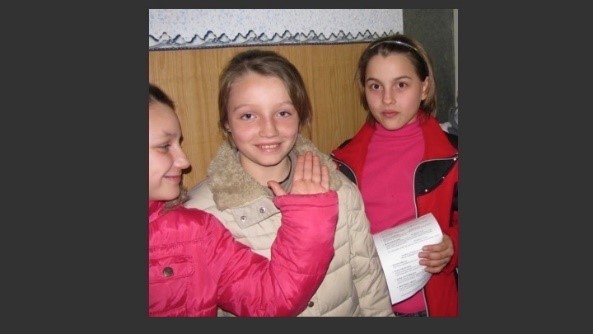 Some of the girls Joe and Jeff met on their first visit to the orphanage. At the time, 2 out of three girls were being trafficked after leaving the orphanage at the age of 16.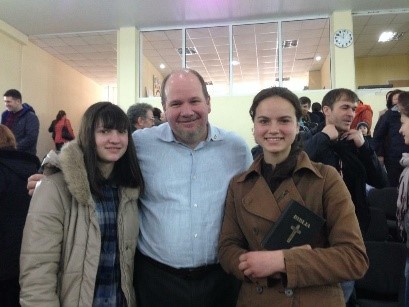 Jeff Copeland with Maria and Dorina at their first meeting.
Marius and Ana, the house parents of Emmanuel House.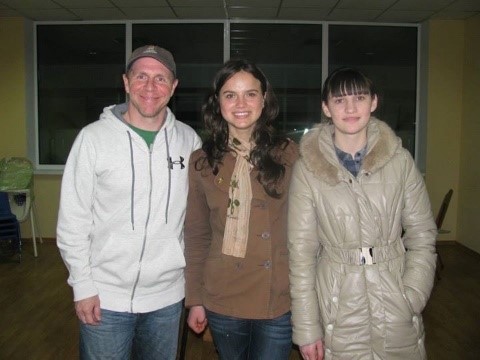 Joe Savage with Dorina and Maria at their first meeting in 2014.
Roads of Hope was created in 2014 after Joe Savage and some others became knowledgeable of the terrible atrocities that were happening to orphaned girls in the Eastern European nation of Moldova. Joe was leading a mission trip for the University of Mobile that year and while preparing for the trip, he came across some very alarming statistics.
"We found many alarming statistics coming out of Moldova and Eastern Europe, but none were more troubling than that two out of every three orphaned girls were being sex trafficked after being forced to leave the confines of the state orphanages at the age of 16," Joe Savage stated.
Upon arriving into Moldova, Joe and the students first met with officials at the United States Embassy to discuss the problem of sex trafficking. They then ventured over to the largest orphanage in Moldova which served as "home" to 440+ children aged 5 to 16. Recalling the trip, Joe said, "We parked on the street, then walked through a large rout iron gate. Inside were numerous gray cinder block buildings, a dusty playground full of old Soviet-era built swings, and weathered sidewalks made of black asphalt that had become worn from overuse. The only color were some flowers scattered randomly across the grounds that looked as if the hand of God had dropped the seeds of wildflowers bringing a little ray of hope."
Soon after arrival, Joe and the students began playing with the orphaned children. "While everyone was having fun, my heart was increasingly filling with anger and with gloom," Joe stated. "I was angry because I could not believe the Moldovan government, our government, the European Union, and groups like the United Nations were knowingly allowing innocent orphaned children walk right into the trappings of dark, evil-filled human traffickers. I felt an overwhelming sadness knowing the fate of most of the girls I was interacting with. I kept asking myself, 'Who loves these kids and who is going to help them have a better life?'"
"As I looked into the beautiful faces of the 14 and 15-year old girls who soon would be enslaved, something stirred inside of me that screamed, 'Do something about this!'" Joe stated with obvious conviction.
Joe and his close friend Jeff Copeland, a pastor from Robertsdale, Alabama who was helping lead the mission team, began to discuss the best ways these girls could have a better life. They concluded that there was a need for a large house with loving house parents where the girls could live after aging-out of the orphanages. The home could serve as a safe place where the girls could live, continue their education, learn skills, feel part of a family, and be taught about God.
The two friends discussed if they themselves could start such a place, but they concluded that it simply wasn't feasible. Both were already over-committed with their jobs, neither had time to raise money, and neither had a large enough income to purchase and provide for a girls' home that would costs about $125,000 to purchase.
With a sense of helplessness, while still standing there amongst the kids, Joe and Jeff decided to pray. "God, if you want us to have a house for these girls, we will do it, but you will have to provide the house, the house parents, and the girls to live there," Joe prayed while reminding God of their limitations.
The two friends decided not to tell anyone about their prayer or ideas. Instead, they continued with the activities of the mission trip as scheduled – visiting orphanages, providing humanitarian aid, and speaking in university classes.
After three days had passed, Jeff met a pastor named Marius who was helping the team of students with language translation. Jeff learned that Marius and his wife Ana lived in a large house that had been donated to them for the purpose of caring for orphans. They had three older orphaned girls living at the house named Anna, Maria, and Dorina. Each of the girls were poor, had faced difficult losses, and had no safe place to go. They had only recently moved into the home called "Emmanuel House."
The next day, Joe decided to visit the house. When he walked inside, he quickly saw the house was in poor condition. Describing the visit, Joe stated, "Mold and mildew were growing on the walls. The floors were cracked. The girls were sleeping on old, urine-stained mattresses on the floor. The bathroom stunk. There was little food. The kitchen cabinets were falling from the wall. It was so cold inside that the house parents had built a tent around their bed made of pieces of wood and a blanket. At night they would put a portable heater inside the make-shift tent to stay warm."
In talking with Marius, Joe discovered that the couple was undeniably called of God to care for orphaned children. He could sense their passion, commitment, and tremendous love. Joe said, "There was no doubt Marius and Ana were great people who had a genuine call of God to care for orphans. The problem I immediately realized was despite this couple having a call to care for these orphans, they simply didn't have an income to sustain a house that large. For instance, the reason the house was so cold inside was because Marius and Ana didn't have enough money to pay for wood and coal and their heating system was antiquated. In fact, it had become so bad financially that Marius and Ana had discussed closing the home due to the lack of funds, but they had decided to stick it out, pray, and hope God would send them help urgently."
With a vision to help and a clear comprehension that God was orchestrating a masterful plan, Joe said, "We had prayed for three things only three days prior – a large house, loving house parents, and older orphaned girls to care for. Now, here I was standing in a large house with loving house parents who were caring for three older orphaned girls! It was clear God was at work and that we didn't need to start something from nothing. Instead, we just needed to support the work that had already begun."
After returning to the United States, Joe, Jeff and a few others began sending personal money to the Emmanuel House to purchase food, warm clothes, and other necessary items. Soon, more and more orphaned girls began arriving and more and more generous people began giving. One family from north Alabama heard Joe speak about the Emmanuel House, and they decided to pay for the entire house to be renovated, insulated, and heated properly. Other generous people provided new beds, warm clothes, bicycles, and much more. When asked the reason he and the others gave so much to help the girls, he said, "Because we all knew these orphans needed help. We all knew God was at work. And we simply wanted to give the girls a better life. We each knew it was the right thing to do."
As more people began to give and help, it became evident that a non-profit organization in the United States would need to be started. Joe said, "We never had a plan, strategy, or anything else. All we did was pray and start trying to help three orphaned girls that God brought across our path. The next thing I knew, we were providing care for a house full of orphaned girls who had no place to go and we had awesome people offering to help. The result was the founding of Roads of Hope in 2015."
In 2016, Joe transitioned from his university job as an executive dean and professor, into being the executive director of Roads of Hope. Having no children of his own and having 20+ years of experience helping orphans, Joe strongly sensed God wanted him to dedicate his life full-time to helping orphans to have better lives and never be trafficked. "I love these kids. I want to see them have better lives," Joe stated. "With God's continued guidance and people's generous support, we will continue caring for as many orphans as possible. There is no excuse for any orphan to ever be trafficked. It's simply unacceptable. We must all do our part in providing them with a road of hope!"